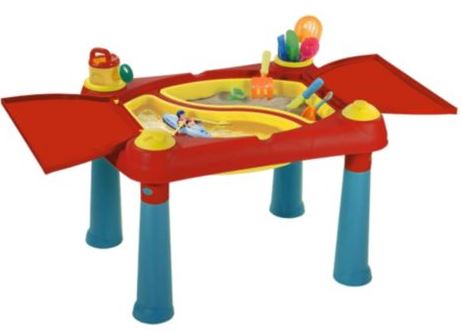 Tesco has reduced their sand and water table from £30 to £14, making for a brilliant price for a table with a lid.
This summer time staple is just a must have in any child's garden. I've been scouring the web over the last few week looking for a sand table for my kids, but haven't liked the prices on any I've seen and I think this is just a fabulous price. Add the free click and collect and it's an all round bargain.
This multi-featured table has two lids to protect the sand and water when not in use which also helps it double up as a play table. Folks, this is a non-negotiable feature! Our current sand table doesn't have a lid and I spend more time cleaning the muck out of it than the kids spend playing with it. The ability to close it when not in use is imperative, unless you want to pack it away after every use. If anyone has one of these though, it would be great to know how well the lid seals? Is it waterproof?
The Sand and Water Table is made from plastic with UV protection, the play table is easy to assemble and comes complete with a large cup, colander, and 2 star and fish-shaped moulds.
The bowls for the sand and water can also be removed, making it all the easier to clean.
Thanks to Khio77 at HUKD