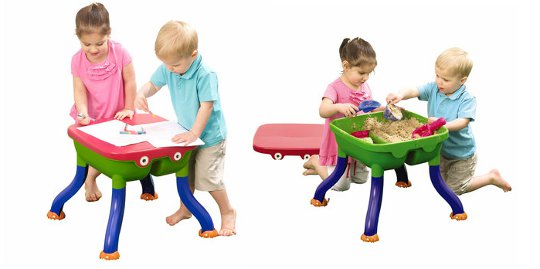 This weather is just perfect for getting the littlies outdoors and while they're sure to find the nearest patch of dirt and eat it, you can supply clean sand if you want to, in the My First Sand And Water Activity Centre which is half price at ToysRUs, reducing it from £29.99 to £14.99.
We have a lovely conservatory, but it isn't heated, so come winter it's so cold we don't spend much time in it. Now that the summer is finally here, however, we're not only loving the conservatory, but the garden too!
I think this sand and water activity centre is a great idea and will lead to messy play out in the sun. And when you're done, just pop the lid on and keep the neighbourhood cats out.
A definite bonus of this table, and why I told you about our conservatory, is that it also doubles up as a desk, so it's perfect for indoor use too. It can definitely double as an art and craft table. Space is at such a premium in our house – and that of most people who have babies and toddlers – that something that doubles as something else, and is suitable for indoor and outdoor use and for a range of seasons to boot, is a winner right from the start.
Thanks to Phillyboy at HUKD