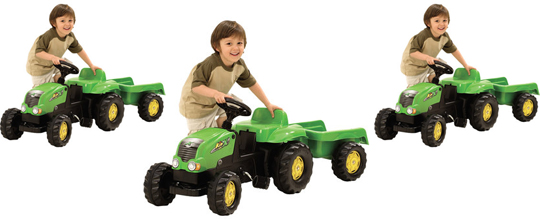 Calling all tractor fans!  Toys R Us are selling this ride-on tractor for half price - £44.99 rather than £99.99.
My youngest had a ride-on JCB, if he'd been allowed to have a ride-on tractor as well he would have LOVED one - but there are only so many ride-on toys one little boy can have...right?  No, he didn't think so either.
There are a fair few little toddlers where I live, they have slightly older school-age brothers and sisters and now the weather seems to have taken a turn for the warmer, I see the little ones scooting along or being towed along on their ride-on toys as they accompany their mums and siblings to the school bus stop.
This particular ride-on tractor must be like the John Deere of ride-on tractors because it comes with a quite a few features:
Large detachable trailer (very important)
Opening bonnet (even more important)
Rear hitch pin (don't lose this!)
Covered integral fixed wheel chain drive (no getting trousers legs caught)
Rugged style wheels (perfect for off-roading)
Anti slip pedals (saves a lot of bruising to little shins!)
You can pay £4.95 for home delivery if you wish - alternatively find something REALLY cheap to take you into the 'Spend £50 or more and get free delivery' zone - or you could use the Toys R Us 'Click and Collect' service and go and pick up your ride-on tractor for freeee!
Thanks to Syzable at HUKD