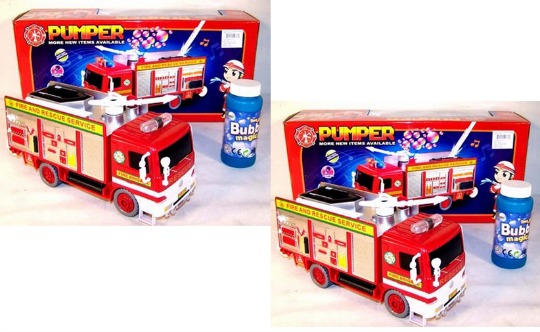 When I was little I had a thing for post vans and postmen, thanks to Postman Pat. Every child gets a fascination of some sort and if you know a little one with a love for Fire Engines, then boy do we have a deal for you. Pumper the Bubble Fire Engine is only £5.89 from Amazon Seller: rctoyshopuk. Plus this price includes FREE Delivery. This would make a great party present for any small child.
Pumper the Bubble Fire Engine has a 4.3 star rating on Amazon and the reviews are GOOD. One common complaint is it's noisy but if it makes bubbles like it should then who cares, right?
This is essentially a Fire Engine shaped Bubble Machine. It moves around and will change direction as soon as it hits an object. To just add to your Fire Engine loving child's delight, it also has flashing lights and a siren sound. It does require three AAA batteries, so make sure you have them in for this arriving.
It's the perfect time of year to have little novelty toys like this on the go, out in the garden.