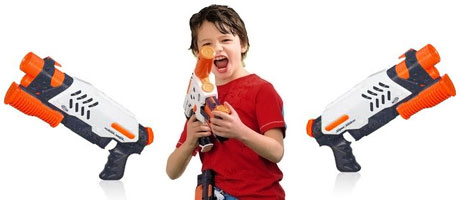 There are some rather super discounts to be had on Super Soakers at Argos at the moment.
It was lovely here in my little part of the country over the weekend; all the neighbourhood kids were out and about enjoying the sunshine.
Some sat on the village green chatting whilst others rode around on their bikes, but the main activity of choice seemed to be 'see just HOW wet you can get your mates with a Super Soaker'.
Long gone are the simple water pistols of my youth!
You remember - they weren't very big, weren't remotely powerful, were only any good for close range combat AND had to be filled up every 30 seconds.
They didn't, if I remember rightly, have cool names either; nothing like 'Flash Flood' or 'Hydro Cannon' - from their names alone you KNOW you are going to get properly drenched if you come face to face with one.
The Super Soaker discounts vary - there's 20% off some, a third off on others and some half-price bargains to be had too.
Most of everything is in stock for home delivery if you really can't get to your local Argos, but it will cost you an extra £5.95; click and collect always seems the better option to me.
Thanks to KillerHawk at HUKD