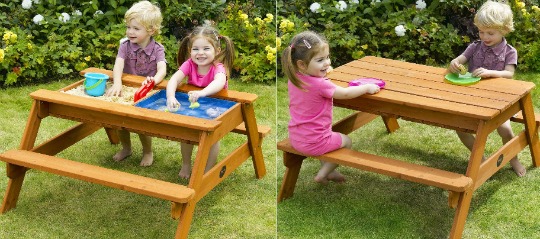 I've been keeping my eye on this one for a while and it's just dropped in price to £59.38 today. The RRP on this one is £89.99, so you're saving quite a bit, 34% to be exact.
I've been watching this one for a couple of reasons. Firstly it's made of wood, which I love. I know wooden products tend to be more expensive but I've found not only do they look better, they tend to last longer too. Secondly and perhaps more importantly, it's dual purpose and with kids that's important to me. Anything that saves even the tiniest bit of space has got to be a good thing and as my garden already rivals the local park with the amount of kid's outdoor toys, the fact that kids can eat at this and then use it to play with afterwards, well I'm sold.
I suppose this can be used in a playroom too, perhaps minus the sand, but I'm buying one ready for summer. Too often in years gone by I've left it too late to get what I want and by the time the sun is actually here I've had to pay over the odds or miss out.
Still not sure? Why not have a read at the review Lynley blogged for Playpennies on this very product? You can find thatHERE*