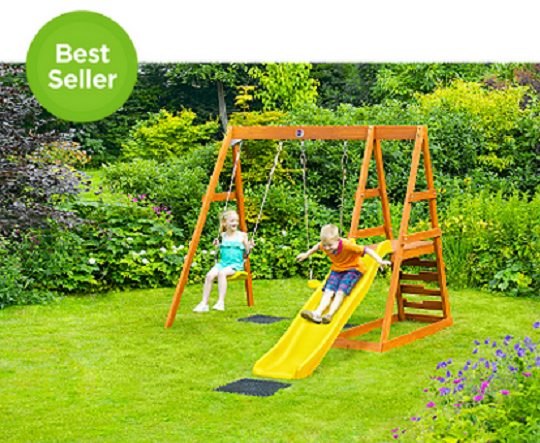 This is a great price on this rather epic outdoor toy from ASDA Direct and, the best part, is that they have them in stock. This makes a nice change from the red Sold Out button that usually sits there glaring at you. Down to £150 you get the Plum Tamarin Wooden Play Centre and delivery is £2.95. Nice.
This play centre comes in a natural coloured wood with a double swing for double the childhood fun. Now both your kids can play at the same time without whining or beating each other half to death, or your playdates all can play harmoniously at the same time too. You also get a wooden ladder that leads up to the play deck and a slide that runs for 1.78m.
While not a giant play gym, it's a really good sized one that is suitable for kids aged three to 10 years old. If you have kids and a big enough garden, this is a gem!
Thanks to munchkin13 at HUKD!