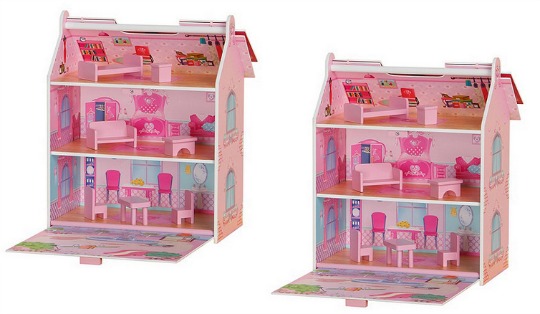 If I told you that you can get a wooden dolls house with furniture for just £16 would you believe me? Well you can! Debenhams have slashed the price of the Plum Hove Children's Wooden Dolls House with Accessories from £40 to just that. Use the promo code SH04 at the checkout and you will also get FREE delivery too. Unbelievable! This deal is so good that I am thinking of buying one to put in my party box.
The Plum Hove Children's Wooden Dolls House has one bad review on the Debenhams site BUT one good one on their Amazon selling page, here*. To be honest, I would be surprised if it was rubbish as Plum specialise in wooden toys. I say buy it and if it's rubbish return it.
This wooden dolls house is very pink, with three storeys and comes with a bed, a bedside table, a dining table with chairs, a sofa and a coffee table. Heaps for that £16!
It comes flat packed and all the pieces have holes drilled for an easier build. I don't think it will be too tricky after all it's not too many bits to go together.
You can opt to Click and Collect if it's more convenient, this service is FREE.