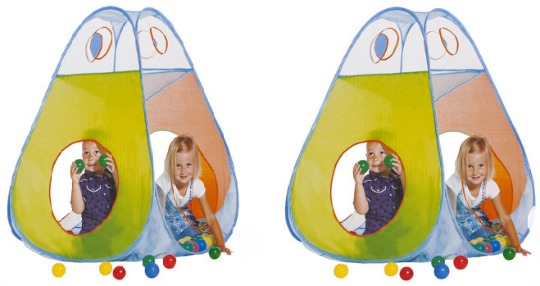 Nope, I haven't lost the plot. The weather is hideous here and when it's like that, you can't just take the wee ones down to the park. They get bored and this might just save your sanity on those rotten days. Get it with a fiver off at Toys R Us, it's only £14.99 now.
There's lot of fun to be had with this Stats Play Tent. It's not noisy or messy, so you won't have a meltdown on those days when you are stuck in with the kids. These are easy up and easy to put away. Not to mention they come with 30 playballs, that will make this tent even more attractive to your tots.
Sling it up in the living room, give yourself time to sit on the sidelines with your cuppa. I haven't got this exact one, but one very similar. I stick it up when it's piddling it down outside, for the kids and for me. They get bored, I get ratty at them moaning and following me everywhere with their little sad faces. It does the job, they have lots of fun, and I get to watch or give a quick dust around the house.
You can collect the Stats Play Tent with Playballs for free from your local Toys R Us store or pay £4.95 to have it delivered, that's if you can brave the rain.