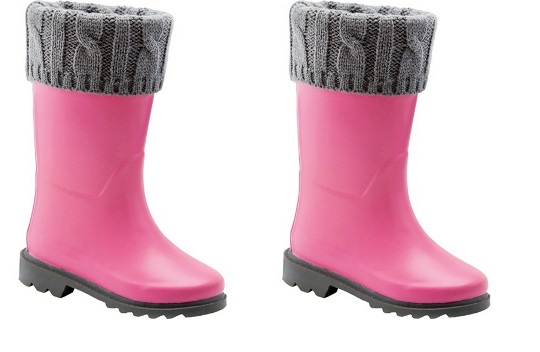 Ok, even I have to agree that this looks like a pretty good deal. These pink wellies are a part of Vertbaudet's Final Clearance sale and have been marked down from £17 to only £5.10. Nice. This is a whopping 70% discount on a winter necessity.
The pink wellies in the Vertbaudet (I really struggle to spell that word) sale come with a removable sock to keep feet nice and toasty warm all through the winter. The socks are imitation fur with a cable-knit turnback and are made from 100% polyester.
I am really impressed with the price now. To include the socks? Nice. Normally I see a price like this and it turns out that it was JUST the socks! Anyway. The pink wellies themselves have rubber uppers with a slip resistant sole and are built nice and sturdy.
The colour may not be for you, though, as this is a rather startling pink (I love it!), but it appears that there are a lot of different sizes still available so you should be able to nab a pair without a problem.