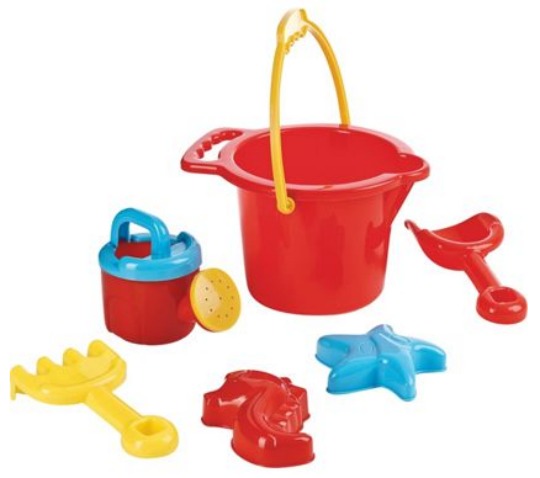 Listen up folks! It's not quite hats and scarves weather yet, and if like me you try to prolong the short lived UK summer, then this ones for you. Homebase have this six piece sand set for only 99p. This makes it below half price, as it was originally £2.24.
The six piece sand set from Homebase, contains a bucket, a spade, two sand moulds, a mini rake and a watering can. Colours vary, so I wouldn't rely on the picture too much.  Sets like this are always a Godsend to take down to the beach. What child doesn't like playing and digging in the sand? Okay, so my eldest James went through a bit of an OCD phase, where he couldn't bear anything remotely dirty near his hands, but as a rule most love it.
I reckon we still have a good wee while left of summery days, so why not make the most of these bargains? Afterall, they don't take up much storage space and can get pulled out year after year.  Another use is that they could in fact be used as bath toys. Watering cans are lots of fun in the bath. I used to use one to rinse the shampoo off of my James' hair.
The six piece sand set is collection only, which is free from your local Homebase.
Thanks mobjw @ HUKD