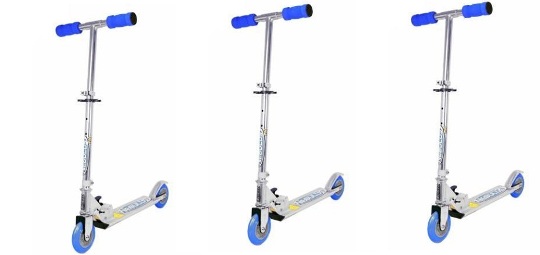 If you fancy getting your kids some scooters to zoom their way to playgroup or school without spending an absolute fortune, then these are the ones for you. Available in either pink or blue, the Ozbozz Nebulus TX scooters are good quality and do what they should and only cost £7.99 at Play.com right now.
The Ozbozz Nebulus TX scooters usually cost around £10.99 but this discount, plus the free delivery, means you can get two for only a little over the price of one. Great for those of you who have lovely big families!
I have reviewed some of the Ozbozz scootersin the past and I found them very sturdy and reliable. While they are solid metal and as tough as old boots they don't offer the same soft and elegant lines as the MicroScooters do, but they are almost 100% cheaper.
A great buy, especially with the folding down mechanism for easy storage, that can be adjusted to cope with kids over the age of five.
Thanks to Syzable at HUKD!