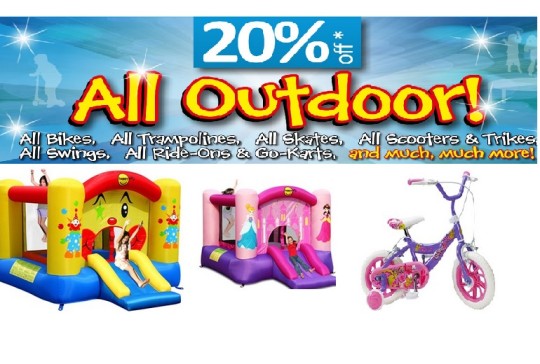 Smyths Toys has taken 20% off outdoor toys and wheeled toys giving parents a bit of a helping hand in getting kids outdoors. It sounds great, but it does also look as though they have purposely inflated some prices so not everything's as much of a bargain as it looks. Read on to see what we think is a good buy though.
A great example of a not-so-sale item is the clown bouncy castle*, which was £99.99 last week, but this week is 'on sale' at £103.99. That said the next price I can find it for is £169.95, so if you're in the market for it, it's a better price than elsewhere.  The same can be said for the Princess Slide And Hoop Bouncer*.
Loads of you have been asking about bikes and balance bikes, and while I'm not sure how the prices in this category differ from previous prices, we do know that balance bikes for under £20 are a bargain. Smyths Toys have the Kool Sports Balance Bike Green* and Kool Sports Balance Bike Pink* for £19.99 each, and four other options for under £30.
Another great saving is on bicycles, it seems to me. The 12" bikes start* from £31.99 whereas similar around the web are more - Tesco has similar options for £40, and Argos has similar from £39.99 (on sale).
While I dislike that Smyths have obviously inflated some prices - it makes the ones we don't know for sure seem less trustworthy! - there are still some great prices to be had, so hopefully you can pick up a bargain.