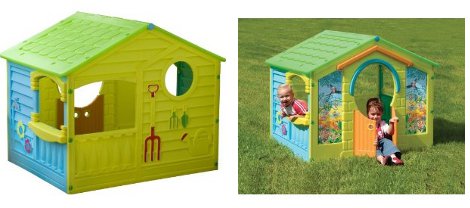 This large playhouse for indoor and outdoor use is on sale at Amazon for £95.87, a 20% discount.
The verdict is out on this playhouse from Mookie, and the reviews are very mixed. According to the Amazon product description, this is a 'strong and sturdy construction'but most of the reviewers felt that it has really poor and flimsy plastic and one person feels that the edges were a bit rough to be safe with children.
Adult assembly is required and most said it took them around 30 minutes, which isn't too bad.
The big thing to remember with this playhouse is that it is a large playhouse. While it is suitable for indoor and outdoor use, one of the mums reviewing said that she wished they'd published the dimensions, because – and this made me spit my coffee with laughter, poor woman - "I really wish dimensions had been listed, when they say "Large" it really DOES means large. I bought this thinking "How big can it be? Look at the size of those toddlers in the picture..." Trust me.. they're the largest toddlers on the planet. This playhouse now IS our hallway!"
Well, when they say large, I guess they mean it!
Opinions might be split about the quality of this playhouse, but one thing everyone agreed on was just how much the children loved it.