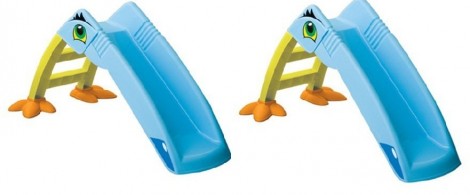 This Mookie Bird slide is utterly adorable and I want one! It has been marked down from £34.99 to £26.47 and comes with free delivery. How cute is this slide? I absolutely love it.
The Mookie Bird slide is a sturdy little chap with an extremely cute bird design on the feet and top of the slide. His little eyes peek at you and those little orange feet are just adorable. He is also very easy to assemble and disassemble so he can be quickly stored away in the winter months.
There are two steps so kids can climb to the top without any trouble and the arched frame is both stable and solid. He is 72x70x139cm in size, so he would fit most gardens quite comfortably. He also comes with a warranty of 12 months just in case something goes wrong.
If you are in the market for some new outdoor toys, then this Mookie Bird slide is definitely one to look at I think.
Thanks to missgem at HUKD!