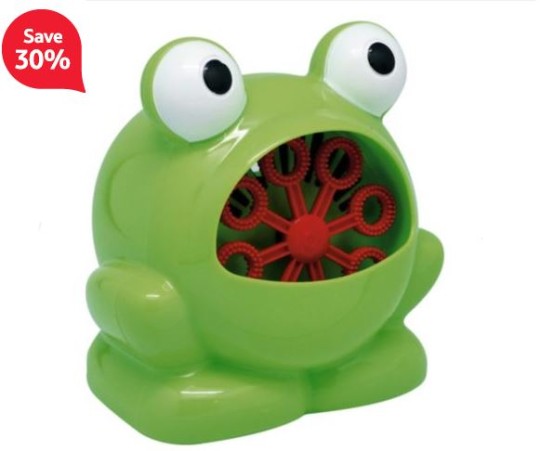 Tesco have reduced the price of this Mini Frog Bubble Machine to £3.50 from £5. There's free click and collect or if you felt that way inclined you could pay the £3 delivery.
I've just bought one of these, not because I particularly love frogs or anything, but because I spend so many hours of my life standing in the garden blowing bubbles, that if this little guy frees me up a little I'd be dead chuffed.
This little fella is reduced by 30% and he requires 4xAA batteries, so not highly sustainable, but hopefully they will last a while.  He has 8 rotating wands to provide a continuous stream of bubbles too.
Reviewers say that the batteries do last well, and that even using cheap bubble solution, this makes lots of bubbles and the little ones love it - and I can believe that! One reviewer loved it so much she's bought two more as gifts  - that has to be considered high praise, surely.