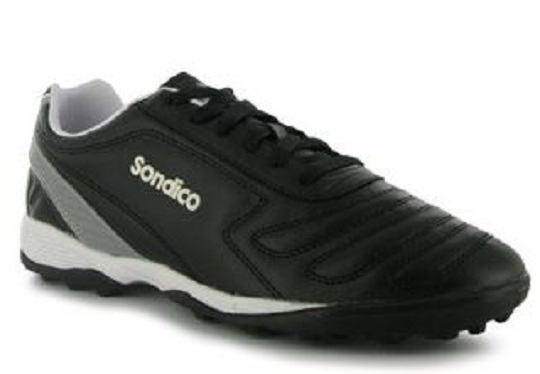 Get some incredible bargains in the Keepers Kit sale! Choose from gloves, boots and other gear all with incredible discounts on the latest brands including Sondico, Nike plus many more. Order online today and get up to 70% off selected lines! These Men's Sondico Strike Astro Turf trainers have been discounted from £32.99 to just £16.99. That's a super saving of £16!
If your teenage son is mad about football he'll be mad about these men's Sondico Strike Astro Turf trainers. They're a classic style and are designed with a stitched, padded upper for improved contact with the ball, coupled with a laced front. Designed for use on astro turf surfaces, these Sondico football trainers feature moulded rubber studs to the sole which are the perfect grip on astro turf surfaces.
These trainers have a stitched synthetic upper, textile inner and synthetic sole making them easy to clean after those muddy till-the-death games! So if you're needing to rekit a growing teenager click through to the site – they've got every football item imaginable and at 70% off you're guaranteed a win!