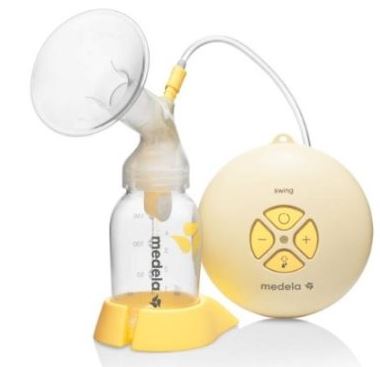 Amazon are selling the Medela Swing Electric Breastpump for £88.99, a 42% reduction on the RRP of  £129.99, and they're throwing a free Calma teat in too, with it's very unique, elongated teat. The pump without the Calma is £99.99 at Boots right now, so I think this is a great offer.
I love Medela and their electric breast pumps. After over three years of breastfeeding my children and  donating breastmilk to a hospital too, I have used many different pumps available on the UK market, and trialled and reviewed more than most, and I still always return to my Medela (mini electric, in my case.)
The Swing's claim to fame is that you can express milk quietly and discreetly, and can be used for regular pumping.
Swing is the multi-award-winning electric breastpump for mothers who need a breastpump for everyday use. Whether you work part time, want to have an evening out, play sports or just want to go shopping, the Swing electric breastpump is the ideal solution for mothers who don't want to spend too much time for pumping.