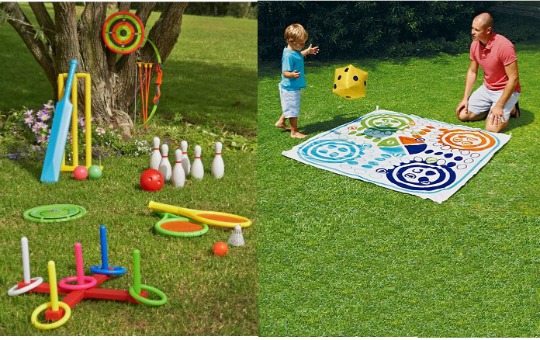 As soon as the weather changes for the better, I encourage the kids to go out and play. More often than not I get enticed into the nonsense with them. The key is to buy some cheap but fun toys that the adults can use when it's wine time. Argos have a super selection of outdoor games and some are even reduced.  They start from just £1.49 so go have a look!
I absolutely LOVE the giant version of classic bored games like this Chad Valley Giant Wooden Animal Pairs Game*. It's just £5.99, reduced from £15.29. You can also get Chad Valley Giant Wooden Dominoes* for £7.49 reduced from £14.99, Chad Valley Giant Outdoor Ludo* now only £4.99 reduced from £9.99, Chad Valley Giant Wooden Pick Up Sticks* was £9.99 now £4.99.
My ultimate favourite on the Argos site and a total bargain is the Chad Valley 6 in 1 Children's Sports Bundle*. Six different games for only £14.99. You get an archery set with target, 2 rackets with ball and badminton shuttlecock, ring toss, bowing set, frisbee and cricket set.
You can reserve and collect your outdoor games order for FREE from any Argos store or pay £3.95 for home delivery.