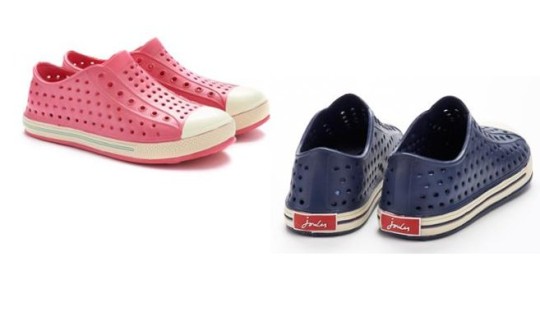 **Sorry folks! Pink is out of stock!
Joules is selling pink and blue Pooler shoes for £5.95 right now, reduced from £16.95.  Delivery is £1, but if you are spending over £50 you can take £5 off your spend and get free delivery with the code BTS05. 
So, I've never actually heard of Pooler shoes, and being clueless at the center of the fashion industry, that is no surprise.
The Poolers are 'pool shoes' but more specifically they are perfect for the pebbly beaches. They have soft rubber uppers which I suspect makes them more comfortable than the blister manufacturing cheap beach side shop varieties!
If the waves and sunshine aren't enough to keep them clean, then you'll be happy to know that a bit of wipe down with a damp cloth should clean them right up.
Any one tried these? What do you think?
Thanks to Lynne Hodgson at HUKD