Kid's Patio Sets (Peppa, Minions, Fireman Sam) £24.99 @ B&M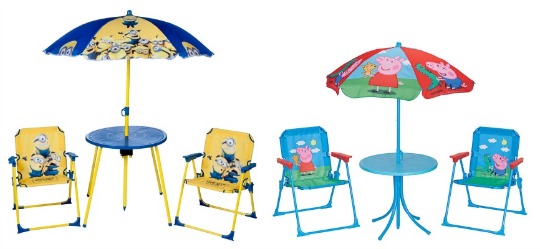 New to B&M are these great value kids Patio Sets, just in time for the spring. There are three designs - Peppa Pig, Minions or Fireman Sam, and all include a table, a parasol and two chairs for only £24.99.
B&M still don't offer online shopping, so it's a case of contacting your local store to see if they have them in stock before you make a trip. The B&M website has a store finder so that you can get the contact details you need.
The chairs fold down flat for storage, as does the parasol. I'm not sure about the table, but with it being plastic it should be easy enough to clean if it has to stay up in the garden. It also looks big enough to be used for a bit of reading, colouring, homework or a snack. So the only problem is choosing your design. Oh, and waiting for the sun to come out. :)