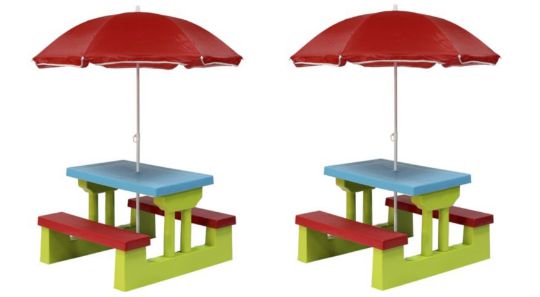 The sun is coming out, and there are predictions of an August heatwave on the way, so there will be a lot of us out in the garden this summer. If you have children who want to do everything outside then this furniture set could come in  very handy, and it's a great price too. The Kid's Plastic Bench Set With Parasol has £10 off at Tesco Direct, making it only £30 for the set.
I had this bench set without the parasol a few years ago, and it was so handy for my then toddler. He would eat his meals outside in the summer, use the table for drawing and sticker books, and play with his cars on it as well. I had to keep moving it into the shade as the one I had didn't come with a parasol, so this version is so much better coming with that extra.
You can click and collect from Tesco stores for free, or home delivery will add a further £3 to your order.