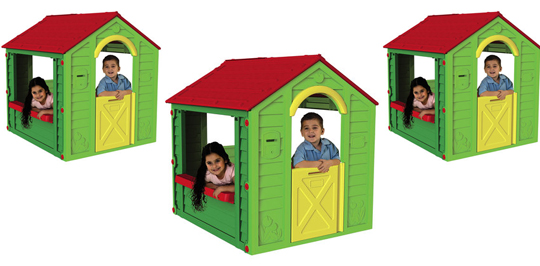 Just in time for the warmer weather and endless summer days spent playing in the garden (nothing like a bit of optimism first thing on a Monday morning hey!) Toys R Us are selling this Keter Holiday House play house for half price - £49.99 instead of £99.99.
If you've ever wanted to build a house then get ready to call Kevin whatsisname from Grand Designs, this Keter Holiday House requires adult home assembly!
My youngest absolutely ADORED playing in play houses like this.  Going to the little pocket park, which had one, was great fun...trying to get him out of it without full scale tears and tantrums was almost impossible, only bribery on a grand scale would work.
The Keter Holiday House comes with full instructions so you shouldn't need a degree in house building, or the aptitude of a Krypton Factor contestant, to be able to put it together; it measures 99 x 118 x 117 cm and has an opening door and two large opening windows.
If you want a Keter Holiday House for your little one(s) to play in this summer, you'll need to reserve it online and then hot-foot it down to your local Toys R Us as it's not available for home delivery.
Thanks to RachaelSelina at HUKD