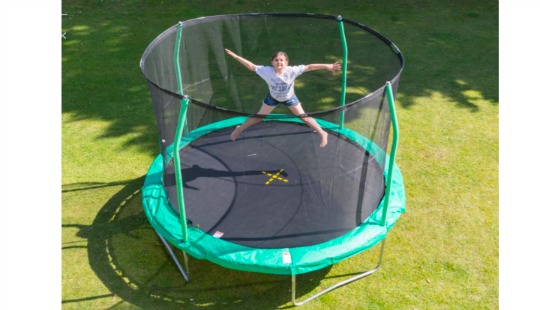 If you're looking for a trampoline for the garden this summer, then this one is the best selling on the market. The JumpKing 10foot Trampoline With Enclosure is £90 at Asda George, and home delivery only adds another £2.95, so this seems a really great deal. This has 5 stars out of 5, and that's from more than 1600 reviews, so I'd say that was a pretty big thumbs up!
There's loads of information about the dimensions, instructions, warranty information and everything else on the Asda George website, but if I put it all here it will take up pages, so instead it's all on the link above.
This is obviously a pretty big trampoline, and it's not for little kids, it's for ages 6 and upwards. We're not likely to see any big reductions on trampolines until well into the summer, going on what happened last year, so if you want to get plenty of use from it then this is one of the best deals around now. It's a good way for the kids to burn off all that excess energy from all the chocolate eggs this Easter!