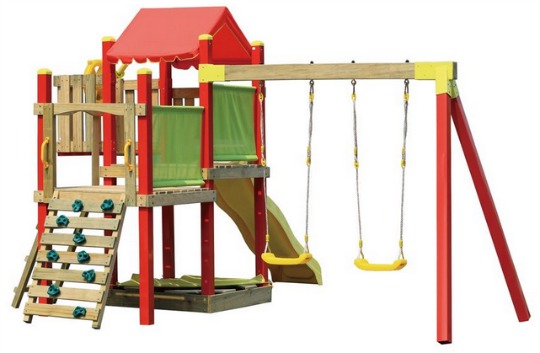 If you are on the look out for a big garden playset then this Jumbo Jungle Jim Climbing Frame and Play Centre was originally £799.99 at Smyths Toys, and a month ago it was selling for £599.99. But now it's been reduced by another £100 and is £499.99!  The next best price I can find anywhere is £830, and some are charging £999!
This is way more than just a climbing frame, as it has two swings, a slide, a climbing wall, a sandpit and a ladder. To reach the top deck children can go up the flat stepped ladder at the side of the climbing frame or for fun they can use the climbing wall. From here they can take an adventure using the ship steering wheel and watch out for pirates with their telescope. They can take a ride on the wavy slide which has high rails to keep children safe the whole way down.
All that sounds like so much fun that I'd be sneaking on to have a go when the kids were in bed I think! Although it does say it's designed for children aged between 3 and 12.
The reviews on this climbing frame are great as well, and that's from people who paid a higher price for it, so this is now even better for money!