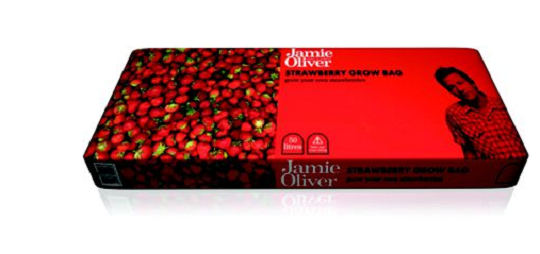 This is SUCH a cute deal and absolutely perfect for doing something fun with the kids. You nab this Jamie Oliver strawberry planter for 93p instead of the usual £2.99 – it is well below half off – and you can also collect it instore for free. Bargain.
You can get three boxes of these with some change for the same price as just one. What a stroke of brilliance. These also make ace gifts. My daughter got one for her birthday and she spent ages figuring it out and planting her strawberries. They all died, but she tried!
This planter has the perfect balance of feed to produce a maximum yield of the best quality strawberries and the compost inside will feed them for 5-6 weeks. You can use it in the greenhouse or outdoors. You will still need to buy your strawberry seeds though – remember that! Good reviews too…
Really good size grow bag, my strawberry plants have really thrived in this bag. Far better than others i've used in the past.
The cut out guide is very useful and i managed to get 3 plants in each section, so 9 plants in total. Very pleased.
Thanks to mobjw at HUKD!