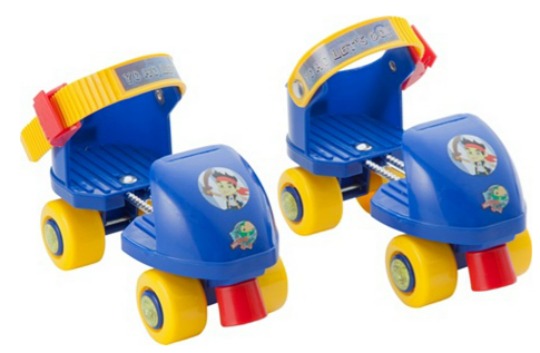 When I was little, one of my favourite toys that I had were my Fisher Price Roller Skates. They were so much fun and I reckon all my friends loved them too. If you are trying to look for an outdoor toy that's a bit different and want to avoid the usual scooters, bikes and so on, then roller skates are worth a buy. These Jake and the Never Land Pirate Quad Skate are reduced to just £3.59 at Argos. They were £11.99 and I think they were a good price at that!
The Jake and the Never Land Pirates Quad Skates are really good to hone our child's co-ordination and balance.These skates are adjustable in size, which is great because it means that they can potentially last your child from shoe size five through to eleven.
They have the front braking stoppers. I never figured out how to use those. They stay secure to your little ones foot by the easy fastening straps.
You can reserve and collect the Jake and the Never Land Pirates Quad Skates for FREE or pay £3.95 to have them delivered to your front door.