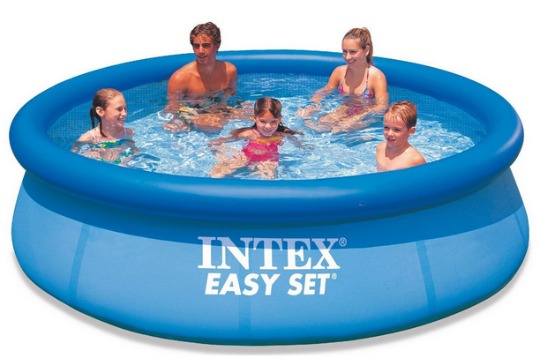 When the weather is great, it's nice to have a dip in the pool or in the sea. Unfortunately, public outdoor paddling pools are getting less and less so we are left with looking at back garden pools. Not built in ones, they are for the wealthy but ones that are that bit away from being a Paddling Pool. Get the Intex Easy Set Up 10 Foot by 30 Inch Pool for just £27.74 with FREE delivery at Amazon. This is a great price for this and the cheapest it's been on Amazon.
The Intex Easy Set Up 10 Foot by 30 Inch Pool is big enough to fit the family in, see the picture above. The kids will go daft at the thought of mum and dad joining in on the shenanigans. Don't expect to relax in it though, well at least not until they are in bed.
The Side walls of the pool are made with three separate layers of material to ensure it durability. The two outer layers of heavy gauge PVC laminated to an inner layer of polyester mesh offers extra strength.
Thanks to darthweb @ HUKD