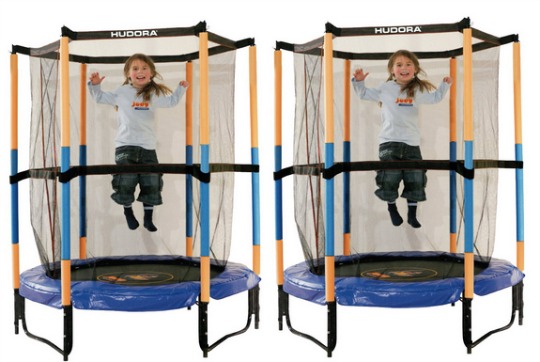 Is your garden too small for a big Trampoline? Grab one of these Hudora 140cm Safety Trampolines from Amazon. They are a lot cheaper than the big ones too. This one is just £36.95 and that price includes FREE delivery.
The Hudora 140cm Safety Trampoline Joey Jump is the ideal size for those of you that just have the one child or have a small garden. My old garden was fairly small and I point blank refused to buy a trampoline as I did not want my garden to just be a trampoline. If I had seen this one, then I would have snapped it up.
When you receive the box, it will contain a mat, a net and thirty elastic return cords. The safety net is vital with any size of trampoline to prevent bad accidents.
The description suggests that this is ideal for toddlers but I don't think I would put a child under three on one. The reviews are great for this sub £40 trampoline, so if you are umming and ahhing then just read them. The only downside that is obvious is that the assembly is quite tricky, so just get someone to help.