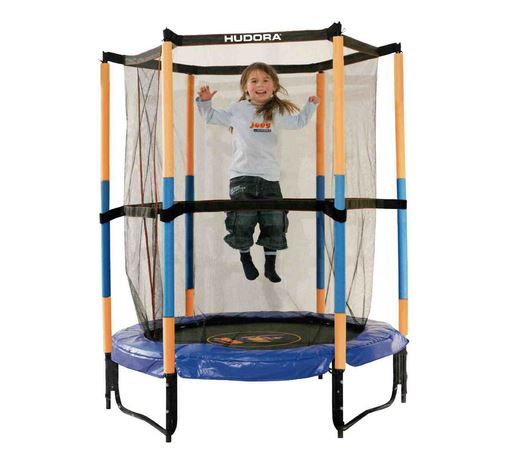 **We told you about this trampoline last week, and I'm so excited to see it back in stock! I would move quickly though - last week it sold out in a matter of hours! **
If you're like me and look whistfully at the fabulous trampoline's people with big garden's have, listen up! Amazon are selling the Hudora Joey Jump trampoline for £34.16 - I just found it for £63 on eBay! This trampoline is 140cm in diameter, meaning it can probably fit into most, even small gardens!
There's something inherently awesome about being weightless for a few seconds, even, isn't there. It must be why kids love jumping on the bed. Well, with this offer you can save your king sized bed springs, and even for your smallest child can safely bounce and jump around.
The Joey Jump 3.0 trampoline is highly child friendly as it was made for toddlers.
It has the new rebound straps system which means complicated threading isn't needed.
"The innovation for the springless fixing of the mat ensures safety due to there not being any sharp edges", they say, and as a mum that sounds great to me!
Further safety features include the 180cm high safety net , the extra-soft edge cover, the lower limit mats and foam padded safety net poles. It couldn't be safer, so long as they don't have super-jumping-powers beyond those in their imaginations! 
Thanks kneale81 for letting us know it's back in stock!