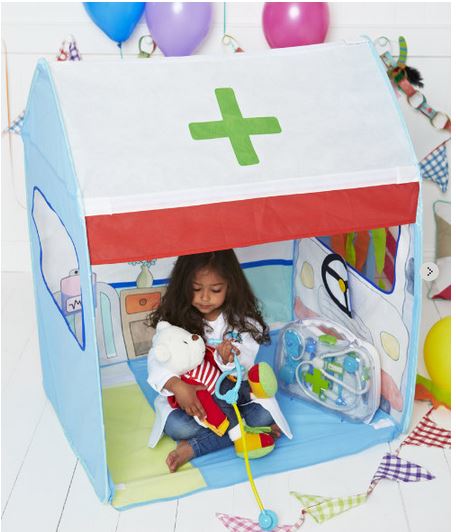 Mothercare have a Hospital Play Tent on offer right now for £20, reduced from £25. When you add shipping it's £22.95, which makes it a similar price to Argos where it's £22.99 with free delivery.
There's just something fabulous about play houses. My daughter will disappear into one for ages at a time, and I wish we had the space to have a whole variety of play tents - she would love popping from one to the other just for the love of imaginative play.
The Hospital play tent is great for indoor or outdoor use, although experience suggests that it shouldn't live outside, specially during the rainier and windier months.
The tent is said to be quick and easy to assemble since it just pops up.
The outside of the tent is an ambulance and the inside is a hospital, so that provides a few more play opportunities. They say it's suitable for children over 36 months, but I can't really see why. You can complete the imaginative play session with fancy dress costumes to match, but you'll have to buy those separately.