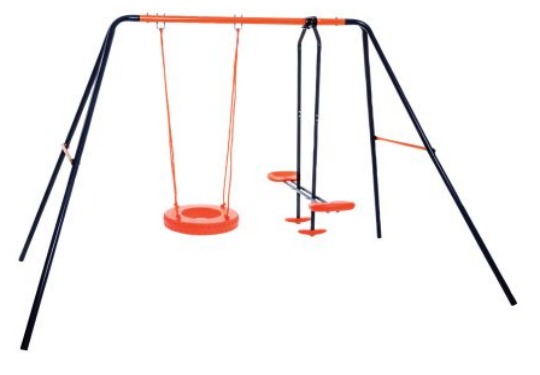 Tyre Swings are much more fun than "normal" swings. In my youth, I would swing from trees in one, but you don't see them about so much these day.  Play it safe with the Hedstrom Tyre and Glider Set from Kiddicare.  It's only £52.99 and that includes delivery too. Think of those warmer days, where you can just the back door and let them play.
The Hedstrom Tyre Swing & Glider Set comes in a blue and bright orange colour that will stand out in the garden. The frame is made from steel which is coated to prevent it from rusting.
It can accommodate up to three children to play at once which is just ideal for me, although you know they will all fight over the tyre swing. Suitability for ages three to nine, so adults you cannot have a go when you have had a glass of wine.
The tyre swing isn't made from an actual tyre but looks like chunky plastic. The Glider looks to me like a swinging see saw, how fun?
The assembly kit comes with ground pegs to ensure your Hedstrom Tyre Swing & Glider Set stays put even in gale force winds.