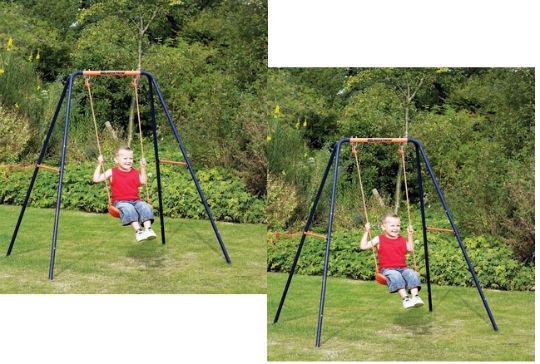 Looking for a cheap swing set? You won't get much cheaper than the Hedstrom Single Swing from Amazon. It's under twenty quid at just £15.88 and you will get FREE delivery on it if you have Amazon Prime too. It's an ideal birthday present for a little one and I plan on buying one as an extra to add to our existing garden toy arrangement. Don't be put off by the fact summer is on it's way out. Stick a jacket on the kids and get them out to play.
The Hedstrom Single Swing has a powder coated steel frame to ensure that it can withstand weather conditions and is durable. It comes with ground pegs so it won't blow over in the wind, nor topple when your child swings on it. These are vital to make sure the swing is secure to the ground at all times.
The chunky, blow-moulded seat should be comfortable for any little, precious bum to sit on. It's suitable for children aged three and above.
You can have it delivered for FREE as stated above, if you have Amazon Prime or if you spend £20 or more. Should you not wish to spend £20, then delivery is £3.30. That means it would make sense to add something of £4.13 or more instead of paying the postage.