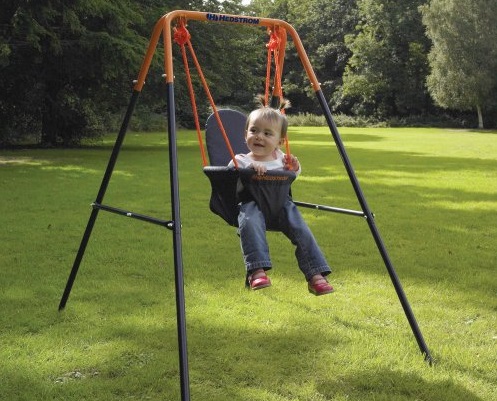 Yesterday Heidi told you about the Hedstrom Single Swing which was on sale for £17.49 - Amazon now has the younger version of the same thing for toddlers and babies on sale for £13.97 delivered. This swing is suitable from 6 months to 20kg - about 3 years judging by my own tots.
There are loads of reviews on this swing on Amazon so it's worth having a look at them to see if they tick the boxes for you. The things that I like about it is that it is apparently collapsible and 'folds away to next to nothing' when not in use, as one grandparent said.
I also like that it's sturdy without having to be dug into the ground - our landlord would not like that.
I'm curious as to whether the swing can be swapped for the older one when your child gets to the next stage - if anyone has done that, do let us know! The frame looks about the same.
Some reviewers said it was super easy to put together, others found it a little harder, but they all say their little ones loved it, and that's worth a little bit of time with a screwdriver, I reckon.