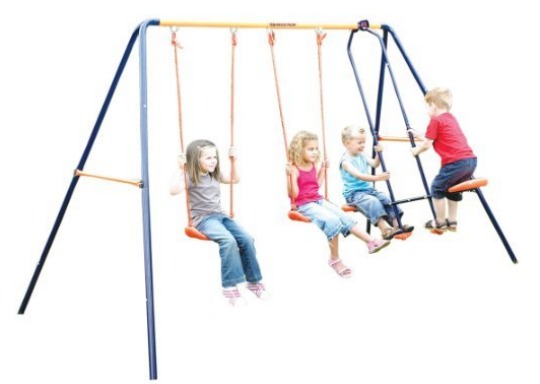 With an RRP of £74.99, you're saving £37.51 or around 50% on this double swing and glider for the kids.
"Hedstrom Neptune features a double swing and glider, perfect for any garden, hours of fun for children on a nice summers day! Has chunky style seats,robust, powder-coated steel frame. Ropes are adjustable for varying heights, comes with high tensile allen key fittings, and ground pegs for extra stability in the ground. Assembled size H180cm x W320cm x D156cm. Suitable for ages 3-10 years."
This one has mixed reviews and I'll tell you why I think that is. These products say suitable for kids up to around ten years and to be quite honest they aren't. Or not in my experience anyway. If you're buying this for younger children at under £38 delivered it's a bargain and they'll have a ball but these simply aren't suited to older kids due to the design. That's when wooden sets come into their own but unless you're wanting to pay ten times this for one of those, this is a good buy if you have younger children.
It's over £10, so delivery is automatically free from Amazon as long as you remember to change the delivery option from first class, the default option, to free super saver delivery.