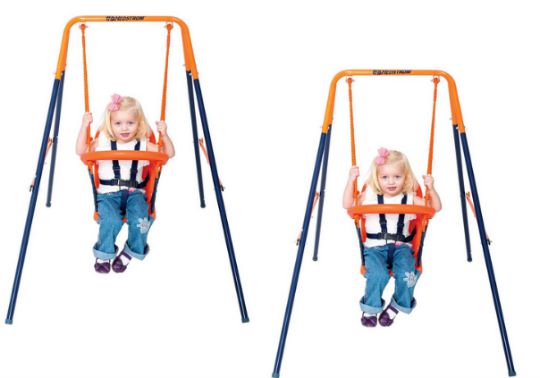 You may be thinking that it is not the weather for buying outdoor toys. The price of this Hedstrom Deluxe Folding Toddler Swing might just change your mind. Amazon are selling it for just £14.51, which is a really good deal. You can still get some use out of it this year or buy it now for a little tot to enjoy next year. If you have the room in your home, you can even use this indoors, according to the description on Amazon.
The Hedstrom Deluxe Folding Toddler Swing has a powder coated steel frame, meaning it should be able to withstand the elements without rusting into nothing.
As mentioned above, this isn't a swing that is exclusively for outdoors. It can be used in the house too and folds easily for when it's not in use. That's a really handy function especially if you are limited for room.
The chunky moulded seat is high backed and has a 5-point safety harness to ensure your tot doesn't fall out.
You can have this Hedstrom Swing delivered for FREE if you have Amazon Prime or you spend £20+. If you don't have AP and you don't want to spend £20, then delivery is £3.30.