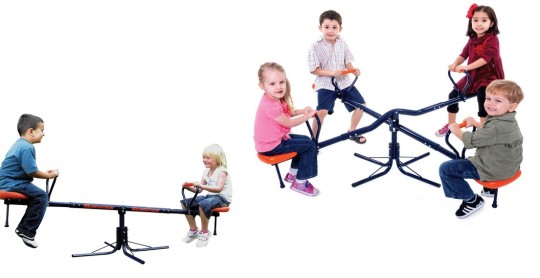 We're crushing a little on Hedstrom at the moment, but if you look at the prices they offer and the product to go with it, you can't really blame us, can you. Amazon have reduced the 2 seater Hedstrom seesaw from £34.99 to £17.49, which obviously then includes your delivery, and the Roundabout seesaw from £69.99 to £34.99. Both of these would be a winner in any kids garden, I'm sure.
The rotating 360 degrees Roundabout Seesaw features an adjustable length bar, and blow moulded chunky style ergonomic seats. The shaped handlebars are meant to be for added safety as is the robust powder-coated frame. They say it's suitable for children 3+. What I want to know is how they suggest I keep my 2 year old off it!
The 2-seater blurb doesn't mention the fact that it swivels, but I did just love this review! This guy should be an author:
Gripe-wise, there's only really one: the spikes on the bottom of the seats don't half tear-up the grass! I suppose if the see-saw didn't also swivel, then you could put something like boards underneath the seats to protect the grass from the spikes, but the swiveling is half the fun.

In fact, my 4-year-old son -- who never does anything like it says on the tin -- enjoys ramming the spike on one end into the grass, sitting the toddler on that seat, and then pushing down the other seat until -- pop! -- out comes the spike with a sudden movement, and the toddler (squealing with delight, mind you) holds on for dear life as she's nearly catapulted into the brambles.

No ... really ... it's a fun toy, particularly for the price. All the neighbour kids envy it, and Dad likes it because it's so light and easy to maneuver as he prepares to mow what little grass is left behind.
Come on, tell me that didn't make you laugh!