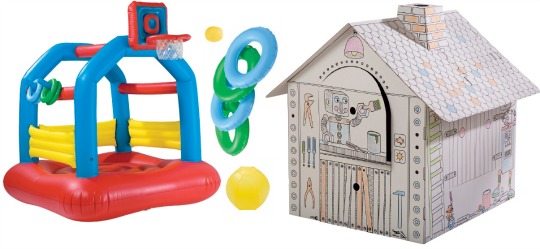 What are you up to on 1st June? You're going to Lidl of course! They have some big bargains for kids coming up on that date. There are Outdoor Toys like bouncy castles, games, swings and things like that, and Kids Playtime which covers indoor activities. As always they are great prices, and a few items that are definitely worth making the trip for.
In the Outdoor Toys the biggest seller is likely to be the Bouncy Castle which is a fab buy at just £24.99. The kids swings and climbing ropes are also great value at £6.99 each, and there's quite a big selection of other games at really low prices.
The Kids Playtime has one item that I really want to grab for my kids - the Colour In Playhouse at £6.99. There are also lots of craft bits and pieces for creative kids, and some fun science experiment kits that I know my eldest will love.
You can find more information on Lidl's offers for 1st June on the links above, and the offers will be in stores subject to availability from that date.
I'll have to find a new Lidl to get my deals from as the one in our town was bulldozed down this week.... but they are building a third Aldi. ;)