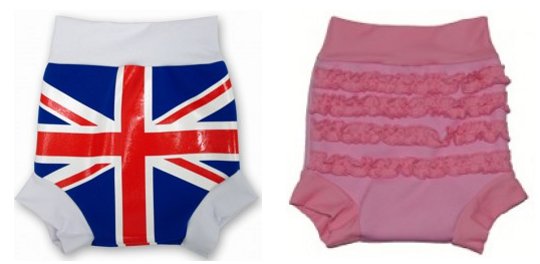 In a convenient twist of timing, the two Happy Nappy products that I specifically mentioned in my review earlier today are both currently on sale. The Happy Nappy Union Jack and the Happy Nappy  Pink Frills are brand new to Splash About, and are on offer for £10.99 instead of £12.99.
To recap briefly rom this afternoon, the Splash About Happy Nappies are recommended and in fact required by many UK swim schools and pools because they are so effective in keeping solids in.
They can be worn with regular swim nappies for added protection, or without, and they are really good quality and very durable. The bands are elastane rather than elastic and they are super soft and comfortable and don't pinch or pull on soft baby skin.
They dry really fast and don't require much by way of special care. Just rinse and hang to dry. Lovely.
If you add it to your shopping basket the price is automatically listed as the discounted price, and shipping in the UK will cost you £2 second class or £6 first class.