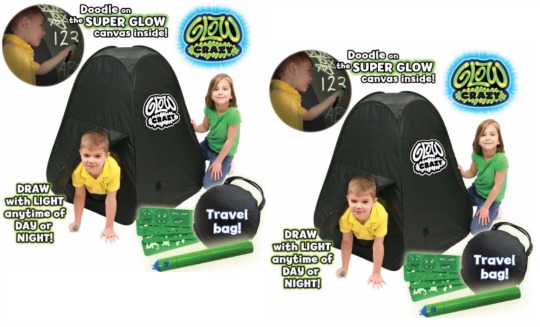 This is the cheapest I have seen the Glow Crazy Doodle Dome. It has been reduced at Tesco Direct to £8.50 from £17. This sells for £23 at Debenhams, £12.49 at Toys R Us and £23 at Boots.com, so you can see what a cracking price it is at Tesco Direct. It makes it so affordable you could give it as a party gift. Think how generous you would look.
The Glow Crazy Doodle Dome has been rated 4.4 stars on the Tesco Direct site. You get the dome, four stencils, light pen and a travel bag.
The jist of it is that your child draws inside the tent with the liner and then shine the light on it. Perfect for those that are playing secret spies or such like.
It looks like great fun and something that will keep the kids occupied for a couple of hours. It can be used indoors or out too which is handy at this time of year.
You can Click and Collect the Glow Crazy Doodle Dome for FREE from your nearest Tesco store or pay £3 to have it delivered to your front door.
Thanks to Dazed125 @ HUKD