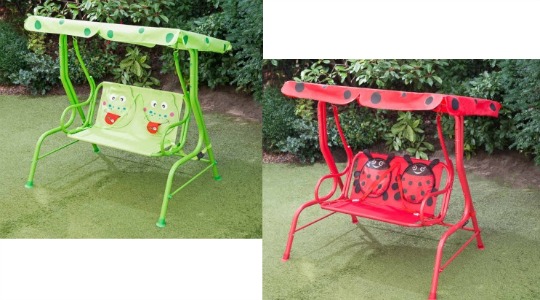 What a gorgeous day it is here! We have been waiting patiently for the warmer weather and now it's here we have been trying to find you guys the best deals for those summer suitable garden items. I was in a B&M store the other day and my boys soon spotted these Frog and Ladybird Two Seater Hammock Swing Seats. They moaned and moaned for them, but I dug my heels in until I got home to see if they were the cheapest. They are the cheapest, in fact the next best price is a whole £10 dearer. These are available in store only.
The kids will go daft for these, not only can they relax whilst swinging gently but they will be kept in cool in the shade with the help of the canopy.
They are bright with their frog and ladybird characters on, making them appealing to our little ones. The metal frame is coated to prevent any rusting. Don't worry about your little one falling off either as there are safety belts.
If you do not live anywhere near a B&M store then you can still get these but at £39.99 delivered but from Amazon Seller: homelivinguk, here*.