The weather isn't always nice and the TV can often step in as an alternative parent but, as AHA once said, "the sun doesn't always shine on TV" either… Here are ten fabulous ways to spend your time with your kids and the TV turned OFF!
1. Make placemats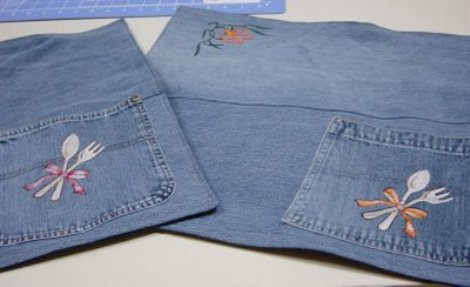 Grab some old shirts, trousers, jeans or old materials, and some sewing stuff, and you can whip up some pretty cool placemats that the kids can help you build and decorate. Measure out your fabric – it is best to use denim or a thicker and less stretchy fabric than your standard tee – think woven placemats or fabric placemats.  Cut the fabric to size, tease out the tattered ends to add that BoHo chic, and then unleash the kids with noodles, beans, glitter, pipe cleaners and glue. Just help them to keep the bobbly bits to the border or no plate is going to sit still!
2. Blow bubbles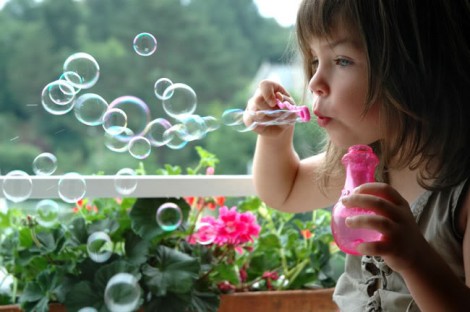 Don't fork out on expensive bubble mixture, just whop some up at home. A dash of dish soap and some warm water will work just as well as that 99p bottle of tat from the store. You can even use odd kitchen bits and bobs to blow bubbles. How about an elastic band? Or some string tied into a loop? Who says we aren't inventive?
3. Dinner delights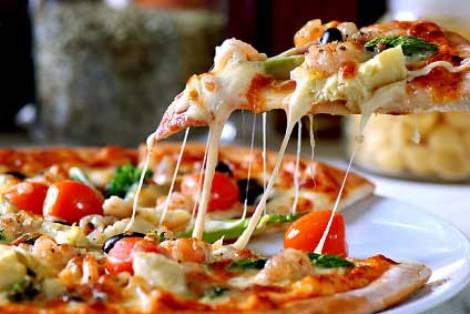 There are plenty of dinner dishes that are easy for kids and parents to make. One of my all time favourites happens to be homemade pizza. And this is definitely NOT the fancy pizza with homemade dough, I can promise you that. No, just pop out and nab yourself some ready made dough from your local and then use whatever ingredients you happen to have lying about the home.
I tend to get the puff pastry sheets as they have this lovely poofy effect when they have been cooked. I then sprinkle on peppers, sausages, beans, cheese, tomato paste – if it tastes nice and bakes well, it goes onto our pizzas. Kids love making these and when you're done so is dinner!
4. Playdough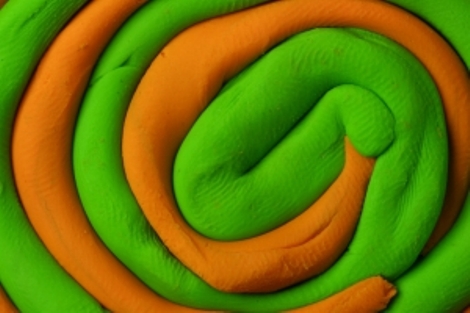 My child has tons of playdough at home. All of these unopened pots that are the result of many birthday party goodie bags. The thing is, I never can get the hang of this stuff. You can only use one colour at a time and if you don't, it ends up smooshing together and creating a sort of demented black.
Well, it is time to dump the disaster and make your own. Whip up playdough together and make crazy colour combinations that you can bin when you're done. I save up the old flour that has just passed its sell-by date for these creations and you can find an ace recipe here.
5. Pom Tiddly Pom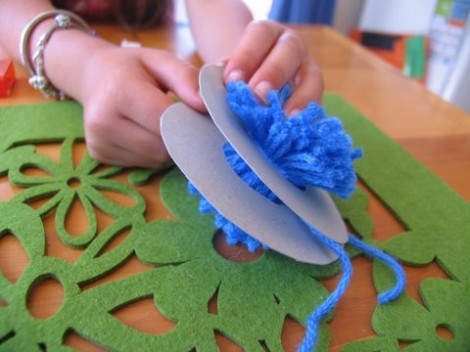 Do you remember spending happy hours with either your mum or your grandma, making lovely pom poms or macramé creations? Yes! I do! And there are many brilliant memories right there. And nowadays it isn't gender specific either, little boys can dive in with glee. You can find plenty of brilliant pom pom tutorials online here, and a macramé guide here. Learning how to make theseand how to implement them is a real skill that will make a difference in the future. Kids will learn skills that they can use to make projects, household items and more. Brilliant stuff.
6. Scrub and clean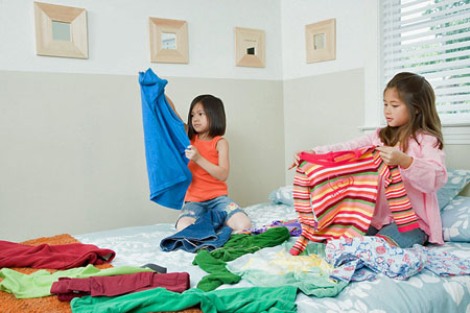 Another real world skill that most of us find a little tedious and frustrating is that of cleaning the house. However, kids tend to find this quite a lot of fun, especially if it is handled in the right way. Slap on some loud music that everybody likes, let people choose the cleaning implement they want, and unleash them on the room.
Don't correct them or interfere (unless they are about to break Aunt Agnes' prize lamp, of course) but let them have fun and take pride in their work. Many kids really feel a sense of satisfaction when they clean a spot well and love the praise. Not only does this activity keep your house clean (well, sort of) but it is good exercise, teaches kids a life skill, and keeps them well away from that bad TV.