Folding Toddler Swing £27.99 with Free Delivery @ Amazon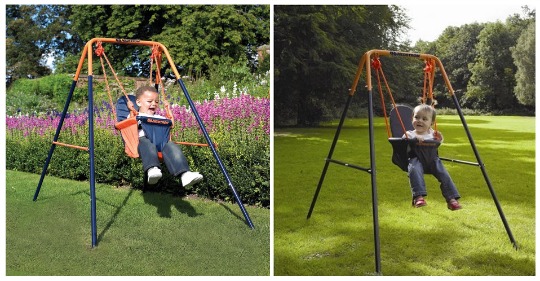 Do all toddlers love the swings? I know mine does, and this Hedstrom Folding Toddler Swing is a bit of a bargain at just £27.99 with free delivery from Amazon.
It's got a sturdy steel frame, a back support, and an easy clean PVC seat. It's suitable from approximately six months to 3 years of age, but as the reviews make clear it really depends on how big your child is - they don't come in one size do they?
Overall the reviews are really great, and it gets 4.5 stars out of 244 reviews. It's also the best selling swing on Amazon, so that must looks like a good recommendation to me.
Even if it was only to last the summer it is a fairly small price to pay for the amount of enjoyment most children will get out of this. Your only problem might be getting them to come out of the thing when it's time to go in!