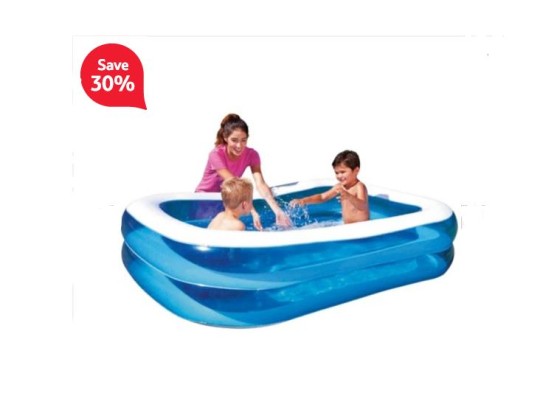 Tesco are selling the Family Paddling Pool for £10.50, reduced from £15. Free Click and Collect applies if you can collect it from your local otherwise you will need to add £3 for delivery.
This pool looks to be really sturdy and a great size if you look at the pictures. According to people who've bought it full price, it is quite small, actually. The measurements on it are 200 x 150 x 50 which I think is pretty decent for the price.
According to the sales blurb it'll take about 20 - 30 minutes to fill, and reviewers recommend buying a foot pump to help with inflating it.
The reviewers say that it is excellent value for money, and some have said that four children can comfortably use it -  I guess size is in the eye of the beholder too.
To be honest at the price I don't think you can expect much bigger and wouldn't hang around - everything else in the Tesco sale so far has been hot hot hot!