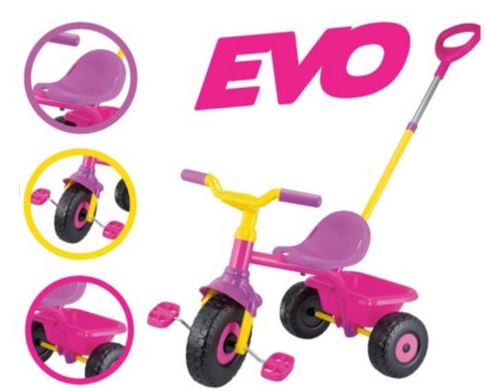 Tesco is on a roll tonight with the great deals, it seems, and here's another: £10 for the Evo Trike in pink and purple. It's reduced from £17, so it wasn't crazy expensive to start with, add free click and collect, and you'd be luck to get a trike for that second hand! I sold an old well used trike for £10 once!
This is a cheap trike. You are pretty much getting what you're paying for. We have a trike that cost well over £100, and it's the luxury version. This doesn't have suspension, doesn't have rubber wheels, and doesn't have a safety belt. It's not the creme de la creme of trikes.
What it is, however, is perfect for irregular use. Great for holidays, fabulous for keeping at the grandparents house so you don't have to find space in the car for a pram or for a more expensive trike.
It has a parent handle so you have some control and can push your little one around. This is removable so they can use it as a trike too - perfect for burning off some steam while you sit on the patio sipping Pims. There's a rear bucket or transporting toys or keeping their lunch bag in.
You can't expect luxury from this Evo Trike, but it's a killer price if you're just looking for the runaround version of a parent propelled, lightweight, summery-friendly trike.
Thanks to mobjw at HUKD