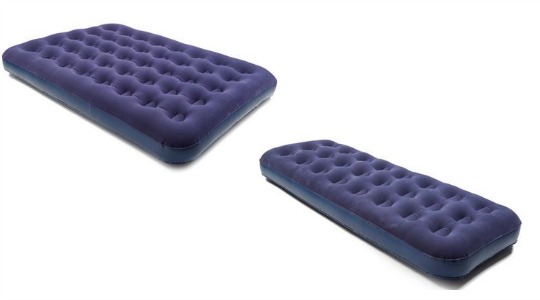 Inflated beds or Airbeds are so handy to have. Think of when the kids have sleepovers or you have visitors that need to stay for the night. If you have any camping trips and like to do it as comfortably as possible then an airbed is a good shout. Millets the outdoor store, have the Eurohike Flocked Airbed in Single reduced from £20 to just £5 and the Double down to £10 from £30. Very cheap, for these.
These Eurobike Flocked Airbeds are rated quite highly on the Millets site. The Single one seems to be preferred, from reading the reviews.
I think at five and ten pound a piece, it'll do for those occasional nights when you have more guests than beds. If I was planning a camping trip that lasts over a weekend, I think I would opt for something a bit better like this Eurohike DELUXE Flocked Double Airbed*. It's reduced from £40 to £20 and might be worth that extra £10.
To make your life easier you could pick up one of these Eurohike 5l Bellows Foot Pump*. Now only £5, reduced from £8.
You can collect your order for FREE from a Millets store or pay £3.99 for home delivery.