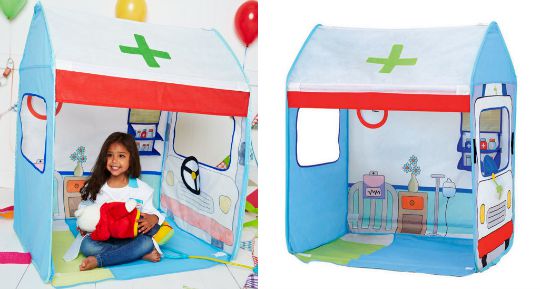 This ELC Hospital Play Tent has massive reduction in the Mothercare Sale, with the price dropping from £25 to just £10. That's a great price for a play tent, and it looks a much bigger size than some of the usual ones as well.
Both the inside and outside of the tent are decorated - the inside is a hospital, and from the outside it's an ambulance, so your little one can collect their patients, and then take them to hospital before making them better.
There's a moving steering wheel for driving the ambulance, then the decorations include a fold down medicine cabinet, a hospital bed, heart monitor, and a handy clipboard to store all of your medical notes.
It's a pop up tent with support rods to keep it staying upright, and you can use it both inside and outside.
I think this could be a cheaper alternative to an official Doc McStuffins play tent and I'm sure children would enjoy playing with those toys in it as well.
You can click and collect this Hospital Play Tent for free from Mothercare and ELC stores, or home delivery will cost £3.95.