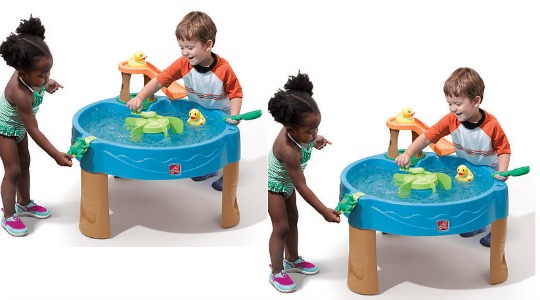 I don't know about you, but I can find it a bit difficult picking birthday present for my little guys. Ben, my summer child is the easiest as I can get him outdoor toys. As soon as I clapped eyes on this Duck Pond Water Table I knew that this is the present to buy a child at this time of year. It's only £39.99 delivered from Smyths. It was originally £49.99 , but has a tenner off. It looks like oodles of fun for those warm days in the back garden. There's FREE delivery with this cool item too.
The Duck Pond Water Table is suitable for children aged 18 months and over. You know how the little ones like to splash around and the not so big children too.
This water table is a pond theme and includes a frog squirter toy and two cute ducks. The ducks can be slid down the bright orange slide and the frog can be launched into the water with the side flipper. I can already hear the kids laughing!
There's a spinner in the centre which will make a whirlpool effect and send the ducks in all directions. There's a scoop too for rescuing those little ducks.