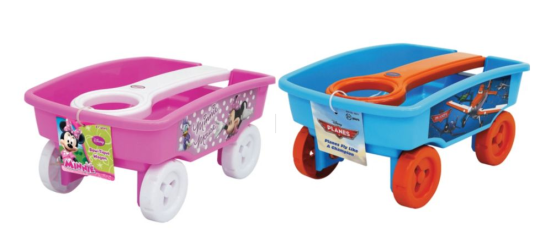 I know it's another Tesco deal for tonight, but it's such a cute one, I couldn't not include it before it sells out - everything else we've shared tonight has gone out of stock super fast! This Disney Planes Wagon is just £5.60 at Tesco, reduced from £8, and with free collection from your local store. 
While this would be a great little wagon for your Disney Planes fan, I actually think the wagon itself will be the major selling factor rather than the branding.
Every festival we go to, there'll be someone with a wagon and the kids absolutely love it. What I love about this one is that even though they say it's for little ones to pull their toys along on - and you know they will and will relish it - it has a whopping 20kg capacity, which means my four your old would very easily be pulling her two year old sister along on it! I just know they'll have masses of fun on it - (I'm sure Tesco will tell you that's not what it was made for though!)
It is made from plastic, and the handle folds away for storage, which is a wonderfully considerate feature!