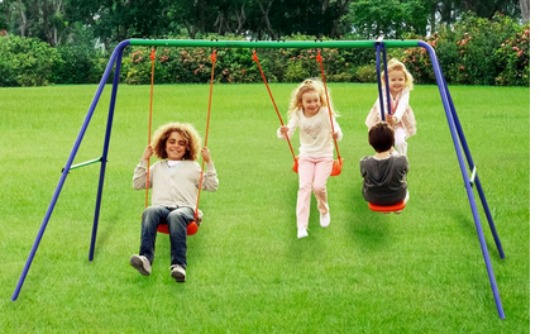 I cannot believe how cheap you can pick up swing sets, if you shop around. Kudos to Smyths for reducing the Delta Double Swing and See Saw Swing Set to just £39.99. Since it's over £29 you get FREE delivery too. This swing set has a 4.4 star rating so that's reassuring. You would easily pay £50+ for similar elsewhere.
For under forty quid, the Delta Double Swing and See Saw Swing Set may be of use to those of you that want to buy the kids play equipment but you don't know how much they would use it.
Up to four children can play on this swing set, which means you should avoid any bickering, but if your kids are like mine and can fight over anything, then you will have no such luck.
It's a metal frame and features a metal frame suitable for any garden and includes two swing seats and one see saw. It's not suitable for little ones under three years old.
If having it delivered isn't convenient as you work, then you can collect it from your nearest Smyths store for FREE.